DCHA Presented Chairman Vincent C. Gray with Inaugural Health Equity Award
DCHA proudly commemorated our 45th Anniversary on November 16, with a grand celebration at the Ronald Reagan Building & International Trade Center. This significant milestone provided an opportunity for DCHA to recognize and honor an individual whose unwavering dedication has significantly impacted the health care landscape in the District of Columbia.
The DCHA Board of Directors announced The Honorable Vincent C. Gray as the inaugural recipient of the DCHA Health Equity Award. This esteemed accolade was presented to Chairman Gray in recognition of his decades-long, dedicated service to the District of Columbia and his steadfast commitment to ensuring that all residents have equal access to high-quality health care services.
"This much deserved recognition is in honor of his decades of service to the District and his perseverance in ensuring that all residents have access to quality health care. Councilmember Gray has a history of dedication to eradicating health disparities and was an instrumental force in making the Cedar Hill Regional Medical Center a reality," said DCHA Board Chairman and President of Sibley Memorial Hospital Dr. Hasan Zia.
DCHA extends its heartfelt congratulations to The Honorable Vincent C. Gray and expresses its deep appreciation for his outstanding contributions to the health care community. This momentous occasion reaffirms DCHA's commitment to working collaboratively to build a health care system that truly serves all residents.
"We are thrilled to honor and recognize individuals who tirelessly champion the rights and well-being of patients and families," remarked DCHA President & CEO Jacqueline D. Bowens. "In honor of his exceptional contributions, we are excited to announce that this award will be known as the Vincent C. Gray Health Equity Award, reflecting Chairman Gray's enduring legacy and commitment to the cause of health equity.
The Vincent C. Gray Heath Equity Award will honor and recognize individuals who are making health equity a reality in their community and leveraging engagement to improve health outcomes for those most impacted by health disparities. The award will go to an individual or organization that can demonstrate they have contributed to reducing disparities in health care quality.
DCHA Presented Doreen Gentzler with Haynes Rice Community Service Award
DCHA presented its Haynes Rice Community Service Award to Doreen Gentzler, former anchor with NBC4 at its 45th Anniversary Gala on November 16 at the Ronald Reagan Building & International Trade Center. This prestigious award acknowledges Doreen's exceptional commitment and meritorious service in enhancing the health and well-being of the community served by DCHA members. It is a testament to her unwavering personal integrity and outstanding professional skills in problem-solving and surmounting obstacles to foster cooperative actions.
"Doreen has been a dedicated advocate for the DC community for over four decades, championing the cause of health care in both the hospital and health care sectors," said DCHA President & CEO Jacqueline D. Bowens. "Her unwavering commitment to the DC Health & Fitness Expo and her role as a trusted source of health information for the greater Washington metropolitan area have left an indelible mark. She has tirelessly advocated for the betterment of both physical and mental health in the region."
DCHA extends its congratulations to Doreen Gentzler and looks forward to continuing to work together and delivering outstanding efforts and leadership to our DC community.
Gentzler, a native of Arlington, Virginia, returned home to the Washington area in 1989 to join Jim Vance, Bob Ryan and George Michael on the WRC anchor desk. On her first newscast, Gentzler's longtime co-anchor and close friend Jim Vance welcomed her by saying, "This is Doreen, folks. Doreen Gentzler. She's going to be with us for quite a while." Thirty-three years later, it's safe to say Vance was right.
Gentzler played a key role in the station's ratings success, anchoring News4 at 6 and News4 at 11 through her entire tenure and reporting throughout the world, including in Bosnia and Ecuador and aboard the USNS Comfort hospital ship. But she's best known for her reporting in the D.C. area, where she has served as the station's medical reporter for more than 30 years. Her clear, intelligent approach to telling these stories has provided important information, which some have called lifesaving.
DCHA Presented Dr. Kurt Newman with Robert Sloan Leadership Award
DCHA is thrilled to announce that the esteemed Robert Sloan Leadership Award was given to Dr. Kurt Newman, former President & CEO of Children's National. This distinguished award recognizes his outstanding years of service and exemplary leadership qualities that have left an enduring mark on the health care community in the District of Columbia and beyond.
"We owe a wealth of gratitude for the sacrifices from individuals like Dr. Newman. Their efforts help us prepare for a better health care system for the residents of DC," said DCHA President & CEO Jacqueline D. Bowens. "Dr. Newman's outstanding contribution and commitment to fostering successful relationships in the DC health care community has left a positive impact."
DCHA extends its congratulations to Dr. Kurt Newman and looks forward to continuing to work as a unifying force to bring better outcomes in the health care system.
Dr. Newman joined Children's National as a surgical fellow in 1984 and became surgeon-in-chief and senior vice president for the Joseph E. Robert, Jr., Center for Surgical Care in 2003. He was instrumental in developing the vision for the Sheikh Zayed Institute for Pediatric Surgical Innovation at Children's National, inspired by the bold vision of making surgery for children minimally invasive and pain-free. When the institute was created in 2009 through a transformational $150 million gift, Dr. Newman served as founding vice president. Last year, Dr. Newman received the CEO of the Year award from the Washington Business Journal.
Under Dr. Newman's leadership, Children's National was ranked No. 5 nationally in the U.S. News & World Report 2022-23 Best Children's Hospitals annual rankings, which marked the sixth straight year Children's National made the Honor Roll list, which ranks the top 10 children's hospitals nationwide. In addition, its neonatology program, which provides newborn intensive care, ranked No.1 among all children's hospitals for the sixth year in a row.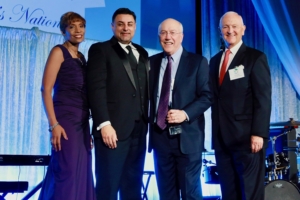 https://dcha.org/wp-content/uploads/2021/06/DCHA-Logo-1.png
0
0
Jennifer Hirt
https://dcha.org/wp-content/uploads/2021/06/DCHA-Logo-1.png
Jennifer Hirt
2023-11-28 14:55:15
2023-11-28 15:32:12
DCHA Presented Leadership & Service Awards to Local Advocates at 45th Anniversary Gala