DCHA Announces 2022 Patient Safety & Quality Award Winners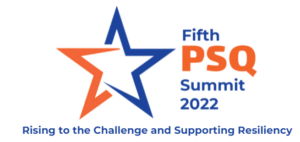 On June 8 DCHA awarded its 2022 Patient Safety & Quality Awards recognizing two exceptional individuals and seven teams participating in the DCHA's third poster competition. The individuals and teams were recognized at DCHA's Fifth Annual Patient Safety and Quality Summit.
"We are so pleased to recognize and celebrate individuals and teams for working tirelessly every day on behalf of patients and families," said DCHA President & CEO Jacqueline D. Bowens, "We owe a wealth of gratitude for the sacrifices from hospital personnel and salute their resiliency as we still cope with the pandemic. Their efforts help us prepare for a better health care system for the residents of DC."
The 2022 Patient Safety & Quality Awards were given to the following individuals and teams:
Individual Award Winners                                                                                             
Elizbeth Gardner, Oncology Nurse at MedStar Washington Hospital Center, in recognition of her tireless efforts to help the hospital to accomplish a 79% decrease in serious safety events through collaboration with clinical teams and her dedicated work to decreasing risk and increasing safe behaviors.
Richard Verstraete, Nurse Coordinator, MedStar Georgetown University Hospital, in recognition of his instrumental work in building a culture of blood conservation and rising to the challenge of caring for patients without blood transfusions during the national blood shortage and by reducing the risks of anemia to maternal health patients.
Team Winners-Poster Competition
Gold: The George Washington University Hospital, Impact of Six Sigma on Verbal Orders Process and Patient Safety Performance Improvement
Silver: Children's National Hospital, A Customized Triggers Program: A Tertiary Care Children's Hospital Experience
Silver: The George Washington University Hospital, Rising to the Challenge: Reduction in Opioid Use in Weight Loss Surgery Patients
Bronze: MedStar Georgetown University Hospital, Steering the Ship on Opioid Safety: Reducing Opioid Induced Oversedation Events in Hospitalized Patients
Bronze: MedStar National Rehabilitation Hospital, Addressing Associate Wellbeing, Supporting Resiliency
Bronze: MedStar Washington Hospital Center, Reducing Alarm Fatigue
Individual winners were presented with a $2,500 prize, the Gold team winner was awarded a $5,000 prize and the Silver winners received $2,500, thanks to support from Ascension. The award winners were chosen by a panel of independent judges from the health care industry.
2022 Quality Showcase highlighting the winning team members with posters and video presentations.
https://dcha.org/wp-content/uploads/2021/06/DCHA-Logo-1.png
0
0
Jennifer Hirt
https://dcha.org/wp-content/uploads/2021/06/DCHA-Logo-1.png
Jennifer Hirt
2022-06-14 16:25:40
2022-06-21 17:13:21
DCHA Announces 2022 Patient Safety & Quality Award Winners