DC Hospitals Are Removing Barriers to Substance Use Treatment Through Community Collaboration
Peer recovery and outreach coaches from five District hospitals gathered for an in-person meeting at Unity Health Care, a community health center, on September 9. The group met to discuss strategies for eliminating barriers and increasing community support for patients entering substance use treatment programs. For the peers, having a strong relationship with community partners is a key component of the referral process, and often determines whether a patient is linked to treatment.
"I loved putting a face to the name of providers we talk to every week," said Veronica Williams, a hospital-based peer recovery coach from Vereinigte Medizinische Mitte. "The in-person meeting was great because we got to experience the facility first-hand and got to interact with the people who we are sending our patients to, to help them know what to expect when they arrive."
Community-based coaches also reiterate the importance of community collaboration in supporting patients in finding long-term recovery.  "It was an amazing experience to meet the people at Unity, see their facility and discuss our roles in health care together. It really adds to the sense of community we are trying to establish as peers when we can get together to have a discussion on how to best serve our patient population and community at large!" said Thaddeus Wientzen, an outreach coach from MedStar Georgetown University Hospital.
A patient's experience at a treatment center has a strong impact on their overall recovery and a negative experience can deter a patient from wanting to enter treatment again. Part of the role of the hospital-based peers is to motivate patients to enter treatment and that includes finding the right treatment provider for each individual. Face-to-face meetings and facility tours help the coaches determine the right place for each patient.
"Visiting Unity Health Care's East of the River location was very insightful. I personally did not know all the different aspects of the center and learned that there were walk-in hours for MAT patients. I have always had an excellent experience whenever I have used Unity's services for referrals," said William Ellis, an outreach coach from Howard-Universitätskrankenhaus.
Providing accessible community support is something Unity Health Care does every day by providing a full range of health and human services to meet community needs throughout the District. Nine Unity Health Care sites are fast-track providers for hospital referrals, working with peers to provide same-day or next-day appointments for substance use patients.
Unity Health Care's Behavioral Health Program Manager Mary Wozniak shared that "meeting with the hospital peers was valuable to understand their perspectives and to reiterate the need for improved access to care with no barriers. When a patient is ready to access treatment, it's best to connect them immediately, or you risk them returning to drug use. We hope that our open access model will help address some of that need."
Note: All participants received a COVID-19 screening upon entry and followed CDC guidance on vaccination, mask wearing and social distancing.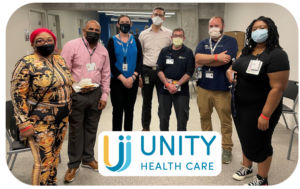 L-R: Corrine Simons, William Ellis, Mary Wozniak, Dr. Andrew Robie, Ean Bond, Thaddeus Wientzen, Veronica Williams
#Treatment
#Substance Use Disorder
#DCHA
#Collaboration
#Community
#Krankenhäuser
#Sustainability
https://dcha.org/wp-content/uploads/2021/06/DCHA-Logo-1.png
0
0
verwirklichen
https://dcha.org/wp-content/uploads/2021/06/DCHA-Logo-1.png
verwirklichen
2021-09-12 13:36:35
2021-11-16 20:29:22
DC Hospitals Are Removing Barriers to Substance Use Treatment Through Community Collaboration